Messaging Milestone as Specsavers Recruitment Services – Locum Diary App Hits the 1M Mark
The Specsavers Recruitment Services Locum Diary Apps have approx. 1600 Active users per month. Since March 2017 the Locum Diary Candidate App has performed as an engaging product to help communication and data flow between consultants, locums and the recruitment systems in use.
The app provides several important features designed to enhance the recruitment process:
Candidates receive relevant and often urgent new opportunities directly to their App Profile
Candidates can easily swipe and respond or confirm assignments. The communication feeds back to the consultant via our unique KeyMesssaging Technology which is synced with RDB ProNet
Consultants can 'Book' locums within RDB which syncs to the candidate's App Diary
Users can access company information and industry news
Message Consultants Directly
Candidates can upload Availability that syncs directly into RDB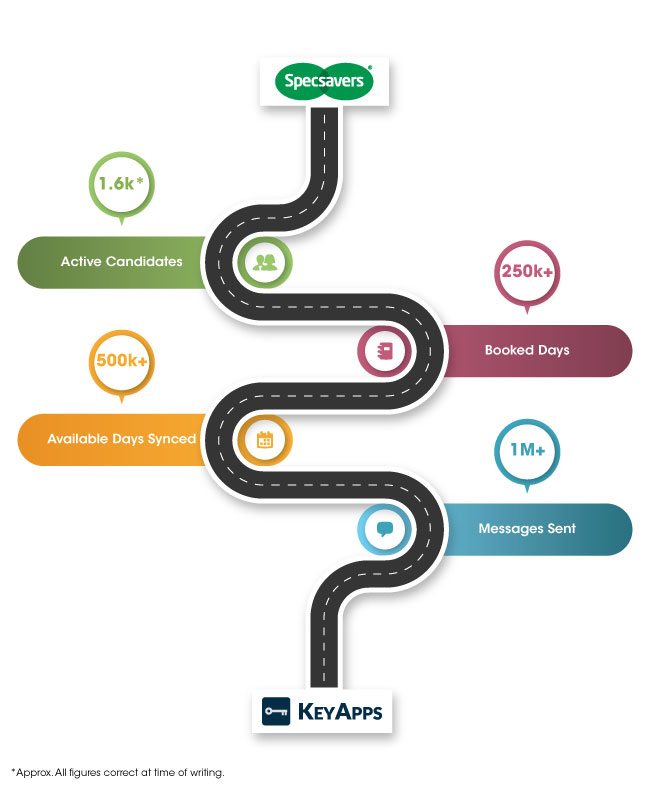 John Edwards of KeyApps detailed:
"We're seeing some impressive user statistics from the Specsavers Locum Diary App, and have been securing important feedback directly from the locums themselves. Our design and technical team members absorb such feedback and KeyApps will continue to work closely with our clients in order to further enhance their products.
"Reflecting on my own background in recruitment it's exciting to see agencies' target clients implementing such sophisticated technology. KeyApps is available to help agencies improve their own recruitment systems and candidate engagement tools."
For more information on KeyApps & Our Product Line, please contact [email protected] / 02033717602